Disinfecting Services
SpreadX provides full spectrum disinfecting services.  We use state of the art technology to kill the majority of bacteria, viruses, and other contaminants that are deterimental to health.  We are insured, certified, and have years of experience.  We are simply the best disinfecting service.
Book Now
Your Health Is Everything
When a place gets contaminated by a virus, bacteria, or other contaminant, we follow the CDC guidelines of ridding it.   An infection can mean literal life, and death.  This is something that should not be taken lightly, especially now-a-days.  Your family, friends, colleagues, and customers are all important to you.  Therefore, they are important to us.  We take great care in making sure that your property is removed of whatever problems it faces, so that everyone can live.
Protect Your Life
Infections are dangerous.  They can ruin your health, and property.  SpreadX uses modern technology, and follows CDC guidelines.
Protect Your Community & Family
If your family gets sick, everyone around them can get sick too.  This means your kid's classmates, and teachers.  We take care of them too.
Protect Your Brand
If an outbreak happens at your place of business, you can lose a lot of customers.  We disinfect your business fast, so you don't lose out.
Immediate Response
Outbreaks don't wait, so why should you?  An outbreak comes on fast, and strong.  It can impact your friends, family, colleagues, and customers without them even knowing it until it's too late.  If this happens to a lot of people at once, it can negatively affect people's desire to want to visit your property, whether that's your house, or your business.
Our easy to book appointment process, thoughtful customer service, and trained employees are all designed with immediacy in mind.  After easily booking an appointment on our online form, an agent will be sent out quickly to assess what needs to be done.  They will bring modern technology, and sensors to determine what the issue is.  Then they will bring in advanced disinfecting technology like UV foggers, and electrostatic disinfectors to stop the outbreak in its tracks.  Within a short time, you will be able to open your place back up to the world and have the confidence that everyone will be okay from here on out.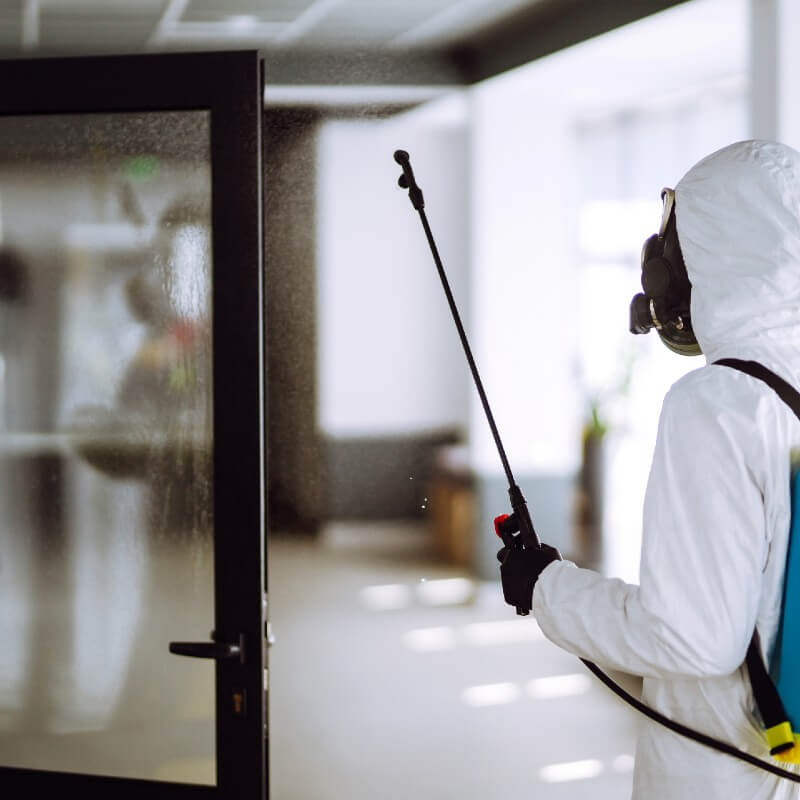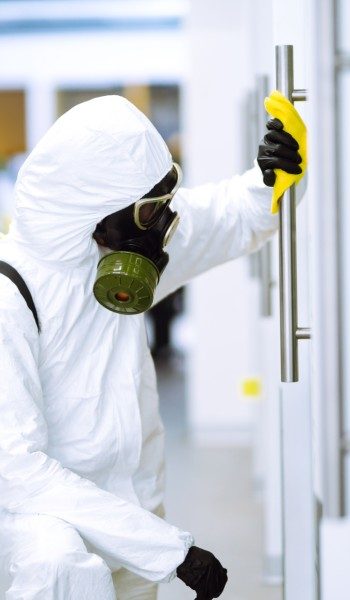 Exceptional Service
All of our employees are constantly trained in the most up to date, modern techniques and technologies for disinfecting.  Whether it's a bacteria, virus, or another contaminant, we know our stuff.  Our experience, coupled with our certifications, and insurance, make us the best disinfecting service around. 
OSHA Construction Safety and Health certification
NAERMC Certified  Remediation Technologist
NAERMC Certified Green Indoor Air Quality Specialist
NAERMC Certified Green Chemical Free Decontamination Contractor
Follow Strict EPA and CDC Guidelines
Certified
We are legally certified by the best in the business.  All our certifications keep us up to date on CDC and EPA best practices. 
Safe
All our people wear the best Personal Protective Equipment.  We also make sure to close off contaminated areas.
Insured
We are totally insured so you don't have to worry about permanent damage being done to your property.  Rest easy.
Exceptional Training
Our people are kept up to date on the latest health threats, as well as what's necessary to disinfect them.
Best Technology
We use the best technology on the market, specific to each contaminate.  Our equipment disinfects all. 
Speedy Service
Having your business closed for just one day serious effects your business.  We respond fast.
No More Coronavirus
Our technology has been scientifically proven to stop the coronavirus dead in its tracks, keeping people safe.
Easy Booking
We make booking a mold inspection easy so you can spend your time on things that are important to you.
Non-Invasive
Our technology is mostly non-invasive, so no construction is required.  However, it gets everything.
(833) 777-3239
Book an Inspection or Request a Custom Quote Today
Frequently Asked Questions
What Are Disinfecting Services?
Disinfecting is a service that uses approved cleaning procedures that use a disinfectant.  The EPA defines a disinfectant as an antimicrobial pesticide that is applied to non-living places with the intent of killing, or inactivating microorganisms.  There are two types of disinfectants, hospital and household.  If you run a business, hospital grade disinfectants should be used.
Depending on the facility, and contaminant, different disinfecting procedures are applied.  This includes different chemicals, tools, and protective equipment.  Common tools used are disinfectant fogging, electrostatic dispersal, and HEPA vacuums. 
Is Cleaning Necessary Before Disinfecting?
The simple answer is yes.  Since our procedures are non-invasive, it's necessary to remove dust, grime, dirt, and oils.  This allows the disinfectants that we use to properly penetrate the contaminant, and either kill, or deactivate it.  
If surfaces and objects are left covered in a substance that prevents the disinfectant from reaching the virus, bacteria, or other substance, it won't be effective.  You don't have to be incredibly thorough, however, this is a necessary step to ensure your disinfecting service is as effective as possible.
When Are Disinfecting Services Necessary?
It's best not to wait until an outbreak happens to hire a professional disinfecting service.  Now-a-days, to prevent your employees, or customers from getting sick, or your business from shuttering, it's intelligent to maintain constant vigilance.  This is especially important if the business is a hospital, or other medical clinic, as pathogens constantly cycle throughout it.
However, in more normal times, it's a good idea to hire a disinfecting service if the people on your property are getting constantly sick.  Doesn't matter if it's your employee, or a customer.  Either way, it affects your business productivity, and ultimately your bottom line.
Difference Between Sanitation and Disinfection?
While they may sound the same, there is a distinct difference between the two.  A sanitation service will use less powerful chemicals that will kill a lot of pathogens, but not to the extent that something like a hospital, or an outbreak would require.  In many cases, sanitizers don't actually kill the pathogen, but rather move it around, or pick it up and wash it away. This is something a maid or a janitor would do, not a disinfecting service professional, like SpreadX
Disinfecting services use regulation defined disinfectants, which kills, or irreversibly deactivates microorganisms.  Disinfecting services use things like HEPA vacuums, electrostatic disinfecting, foggers, and UV light to accomplish this.  Using these techniques, you can be assured that the pathogen is gone.
Why Choose SpreadX Disinfecting Services?
We follow all CDC and EPA guidelines when it comes to disinfecting.  This way you know that whatever processes we use, it will either kill, or permanently deactivate whatever pathogens are causing your environment problems.  This comes from certification, as well as years of practice and training.
Additionally, it's super easy to book an appointment with us, and stay in touch throughout the entire disinfecting service process.  We make the process as painless as possible.  We are fully insured as well, and make sure that everyone is safe, even if the environment that we are working in isn't.  We are simply the best disinfecting service that money can buy. 
What's The Process?
Different contaminants that affect your health require different approaches.  We follow the Center for Disease Control's best practices in addressing all our disinfecting services.  Whether that's bacteria, viruses,  or airborne contaminants, our experience, training, and knowledge will remove your property of anything that cause health concerns.  We are licensed, and fully insured. 
All of our employees are highly trained, and follow the CDC's guidelines for disinfecting services.  All our employees are equipped with Personal Protective Equipment (PPE).  They also seal off the contaminated area to make sure nothing spreads.  They provide the best service. 
We use modern technology.  Whether that's antibacterial hydrogenation, electrostatic disinfecting, HEPA vacuums, or ULV foggers, our gear is professional.
Why Disinfecting Services?
Outbreaks are becoming more common, as we have seen from recent events.  Because of this, customers, and regulators demand cleaner, healthier environments.  While in the past people getting sick would barely get a mention, now-a-days if something like this happens, it can make national news.  Not only does this reflect poorly on brands, in some places, businesses can even lose their licenses.
Therefore to alleviate these problems, smart business owners are hiring professional disinfecting services to routinely clean their premises of all contaminants, just to be safe.  If an outbreak were to happen, the public will know that you took every measure possible in order to prevent this from happening.  Protect your brand, and your customer.  Hire SpreadX.